Indian Relay: Documentary film screening at Fort Hall
Oct 09, 2013 09:07AM, Published by IFM Editor, Categories: Health+Wellness, Food+Dining, Today, Recreation
---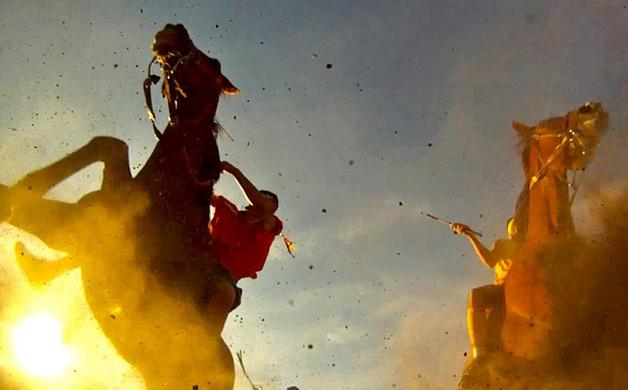 ---
---
The hope and determination of modern-day American Indian life is revealed in this film about what it takes to win one of the most exciting and perilous forms of horse racing practiced anywhere in the world today. From the bitter cold of winter on the Rocky Mountain Front to the heat and mayhem of the summer's championship races in Montana and Idaho, Indian Relay follows three teams from different American Indian communities as they prepare for and compete in a grueling Indian Relay season — all hearts set on the glory and honor of winning an Indian Relay National Championship.
An advance screening of this film is set for Oct. 19 at the Shoshone Bannock Hotel & Event Center, 6 p.m.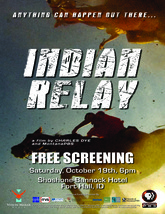 A mix of high-speed daring and exquisite horsemanship, Indian Relay is a sport widely enjoyed and practiced by men and women from tribal nations across the Rocky Mountain West. Each race begins with up to eight Indian athletes riding a horse bareback around a track at full gallop. After one lap, barely slowing down, the riders leap from their speeding horses to a second set of horses. Each team's "mugger" must then catch the first horse or the team is disqualified, creating an often chaotic free-for-all in front of the grandstands. Another top-speed lap, another daring horse change, and the teams race for the finish line, at speeds topping 40 miles an hour.
Indian Relay opens with footage from the Indian Relay National Championships, then it cuts back in time, to the bitter cold off-season near Browning, Montana, where first-time Relayer Myles Murray tries to keep his horses alive when night-time temperatures are dropping to 20-degrees below zero. In Crow Agency, Montana, we watch Zack Rock and Kendall Old Horn steadily work through the muddy spring towards their ultimate goal. Near Ft. Hall, Idaho, we travel with Lance Tissisimit and Alonzo "Punkin" Coby to buy a retiring flat-track race horse—next season's Relay horse. Soon enough the season begins with unexpected turns and even tragedies but each day brings us closer to the end of the film at the Indian Relay National Championships in Blackfoot, Idaho.
Recent public television documentaries We Shall Remain and Before There Were Parks offered American public television audiences vital historical indigenous perspectives, but often in this country there remains an array of stagnate stereotypes and misunderstanding about modern-day American Indians. Fully and enthusiastically supported by the Indian Relay racing community, Indian Relay is a unique opportunity for audiences to enjoy a present-day, American Indian story full of beauty, hope, determination and excitement.
Indian Relay was directed and produced by 2010 NW Regional Emmy-award winner, Charles Dye and MontanaPBS. Darren Kipp (Blackfeet) is the film's co-producer, and it was written by Montana educator and poet M.L. Smoker (Assiniboine/Sioux). It was edited by Katie Lose Gilbertson, co-director of the multi-award winning Stories of Trust series, and it was shot by Emmy-award winning cinematographers, Daniel Schmidt, Dawson Dunning and Rick Smith. Wayne Smith, Jr. (Blackfeet) was an Associate Producer for the film. The film was executive produced by MontanaPBS' Director of Content, Aaron Pruitt.
Selected by PBS' five-time Emmy Award-winning series "Independent Lens", Indian Relay will premeire before national public television audiences on November 18th. The October screening tour and the October 31st pre-release broadcast on MontanaPBS provide an opportunity for participants and fans across the region to see Indian Relay before the rest of the nation and on the big screen.
Indian Relay is a co-production of Dye Works, LLC, KUSM-TV/MontanaPBS and the Independent Television Service (ITVS), in association with Vision Maker Media, with funding provided by the Corporation for Public Broadcasting (CPB). Additional funding for Indian Relay was provided by the Pacific Mountain Network, the Greater Montana Foundation, Humanities Montana, the Montana Office of Tourism, the Gilhousen Family Foundation and the Friends of MontanaPBS.
---
For a taste of the film, check out this trailer from Vision Maker Media.
---
---
fort hall indian relay film pbs
---
You might also like
West Nile Virus infected mosquitoes found in Fort Hall
Tight Line Media production to be showcased at Wild & Scenic Film Festival
---